Paw Patrol Birthday Party
I was blessed to get to design another birthday party for my twin niece and nephew! This year, Brooks is in LOVE with Paw Patrol (as most kids are these days!) So that is where the theme came from.
I would with my sister-in-law Keyna to design a great party off of her ideas.
Here is the Paw Patrol Birthday Invitation:
If you would like to purchase this design you can get the digital version for $15 HERE or you can let us print them for you with 25 cards starting at $39.99 HERE
Next came the table decorations. My sister-in-law found these decorations on Etsy and she wanted me to make her some similar: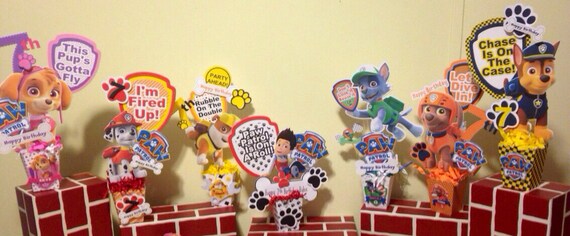 Here are the ones that I created:
You can purchase the ones already put together by that Etsy seller for $15 a piece or if you want to save some money and DIY you can download the files from my Etsy account for $9.99 and make them yourself!
The centerpieces on my Etsy account come with everything you need for ages 1-5.
Paw Patrol Characters included:
• Chase
• Rocky
• Skye
• Marshall
• Ryder
• Zuma
• Rubble
Includes Images for 1st- 5th birthdays.
Purchase the Popcorn buckets here:
http://www.birthdayexpress.com/c/?ntt=dot%20treat%20boxes
Purchase Dowel Rods Here :
http://www.amazon.com/gp/product/B0033F4GSQ?psc=1&redirect=true&ref_=oh_aui_detailpage_o01_s00
Purchase White stuffing here:
http://www.amazon.com/gp/product/B00PXGUIVC?psc=1&redirect=true&ref_=oh_aui_detailpage_o00_s00
TIP: I used small ramekins in each box to keep them from tipping over.
My sister-in-law used dog bowls to put the food in them, I thought that was a great idea!
She also had the cutest cake created for the party:
Instead of treat bags we did an "adopt a puppy" where the kids got their own stuffed animals. I believe she got the dogs from Oriental Trading.
I created this "Help Save The Day by Adopting a Puppy" Sign that can be instantly downloaded for $5 on my Etsy shop. I also created a Adoption Certificate that can also be purchased for $5 on my shop and then you can print out as many as you need!
Other Paw Patrol Party Ideas: